We want you to get the most out of your budget, so we work with your insurance provider to ensure you get the best coverage available to you.
We are a Preferred Provider (PPO) for many dental insurance companies, including children's Medicaid. If you need assistance, or have questions about your insurance policies or claims, our staff is knowledgeable and always available to help you.
Financial Policy
We offer in-house dental membership plans. Contact for more information today.
No Insurance? No problem.
Our Dental Savers Plan offers patients the opportunity to receive discounts on dental treatments, particularly preventive care.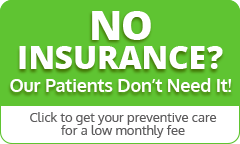 Dental Coverage for One or All
Health isn't something you should sacrifice. The number one reason why many people put off going to the dentist is because they're underinsured or not insured at all. Our Dental Savers Plan covers all the bases to keep you at optimal oral health.
Learn More

NEW! A VALUABLE NEW OPTION FOR CLEANER TEETH
Cash patients: KEEP SMILING FOR $225*
Don't let a lack of insurance stop you from taking good care of your teeth. 
*For qualified cash-paying candidates with no insurance and no major oral issues noted in the exam. 
We've got a new service called: 
Dentist-Assisted Cleaning
This includes:
One 30-minute appointment

Two dental professionals perform radiographs, exams, and power cleaning (deeper clean with an ultrasonic scaler) 

AI oral check (to confirm our findings with FDA-cleared Pearl technology)

Free take-home whitening kit 
*$225 for cash or check payments only. Add 3.75% to pay with a credit card to cover the credit card surcharge
MAKE A PAYMENT
We now accept online payments!
MAKE A PAYMENT